Em'seni camp is currently closed due to Covid-19.
Keep checking back for 2021 updates.
Past Events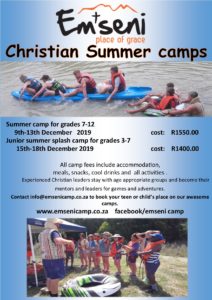 Adventure activities, fun, games, friendship and fellowship. Well supervised small age appropriate groups for activities. All cabins are also controlled by a camp counsellor at night.
Watch facebook/emsenicamp for more updates on these camps.
Contact us on info@emsenicamp.co.za